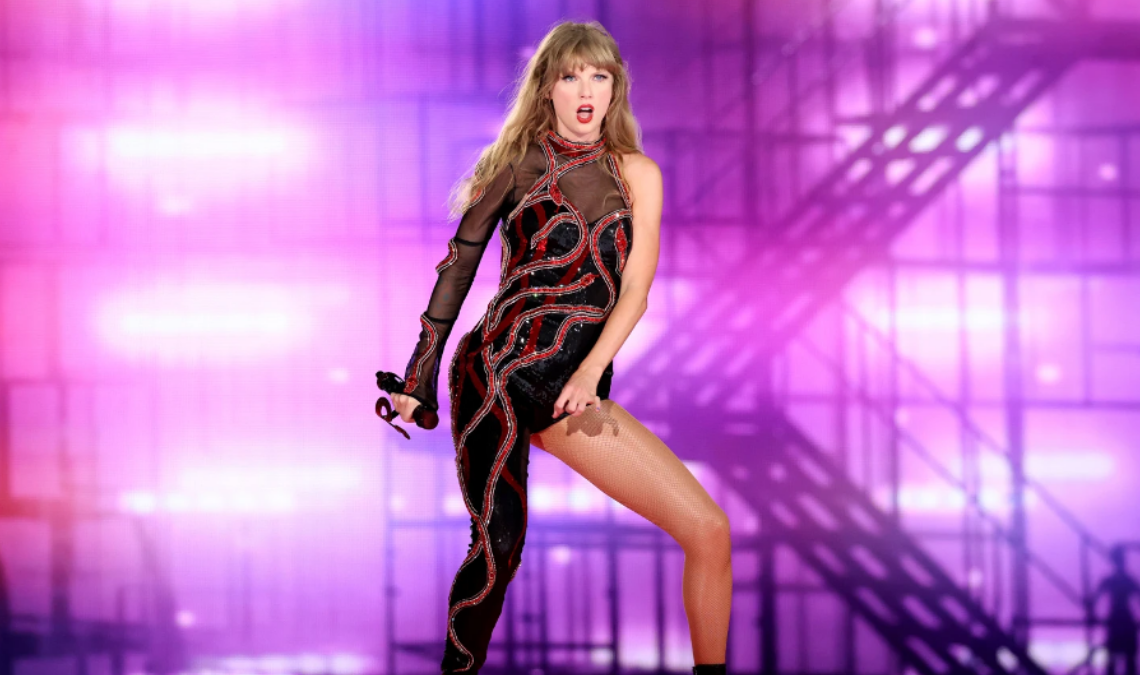 Once upon a time in the land of Nashville, a young, curly-haired girl strummed her guitar, singing tales of teenage angst and heartbreak.
Fast forward to today and behold the transformation of Taylor Swift: from a sweet country crooner to a global pop sensation and an unexpected fashion maven.
The 'Teardrops on My Guitar' Days
Imagine a world filled with cowgirl boots, sundresses, and an abundance of sequins. Welcome to the early 2000s where Taylor's style was as innocent and sweet as her ballads. It was the era of the girl-next-door with a country twang, and honestly, who could resist?
The Evolution – From Country Cutie to Pop Princess
As the sound of her music transcended genres, so did her style. The country kitsch slowly ebbed away, making room for a more glamorous and polished Taylor. The sparkly dresses were traded for chic, classic pieces, a transformation as seamless as her transition from country to pop.
Deciphering the Swift Style
1. Vintage Vixen:
The high-waisted shorts, the polka dots, the red lipstick – Taylor adores the classics, and why not? They're timeless, just like her catchy choruses.
2. Glitter and Glam:
Even in her pop avatar, the glitz hasn't completely gone. The girl loves her some sparkle, cute crop tops, and can you blame her? She was born to shine!
3. Queen of Co-Ords:
Two-piece matching sets? Taylor was rocking them way before they were cool. It's practically a Swift style signature.
4. The Chic Chameleon:
From boho chic to sophisticated glamour, Taylor's style repertoire is as varied as her music albums.
The 'Reputation' Era – A Darker Shade of Style
When the old Taylor couldn't come to the phone (because she was dead!), a new, fiercer fashionista was born. Edgy, dark, and undeniably cool – the 'Reputation' era brought with it thigh-high boots, bodysuits, and a whole lot of black.
Read: Taylor Swift movies and tv shows
A Fashion Line? Perhaps, Perhaps…
With an eye for style, it wouldn't be a stretch to imagine Taylor launching her own fashion line someday. Swifties, keep your fingers crossed and your credit cards ready!
Why is Taylor Swift One of the Most Famous Singers in the U.S.?
The voice, the lyrics, the unyielding ability to pen down a hit song – these make Taylor Swift a musical juggernaut. Beyond the tunes, her genuine personality, her ability to connect with fans, and her distinctive style make her a permanent fixture in the limelight.
In Conclusion
In the grand narrative of Taylor Swift, every outfit is a chapter, telling tales of transformation, triumphs, and tribulations. Her style evolution mirrors her musical journey, a testament to her growth, her transitions, and her undying commitment to self-expression.
So, as you see Taylor Swift stepping out, clad in the latest ensemble, know this – it's not just an outfit; it's a melody, a lyric, a note in the beautiful, boundless ballad of her life.
In the end, whether she's rocking a vintage dress or a glittering gown, Taylor Swift wears her heart on her sleeve – literally and figuratively. And in the swirling symphony of stardom, her style sings a tune that's uniquely, unapologetically Swift.
And there you have it, a stroll down the style lane with Taylor Swift, a journey marked by glitter, grace, and a generous dose of glamour. In the world of fashion, Taylor Swift has carved a niche, a space that echoes her essence, her evolution, and her enduring allure.