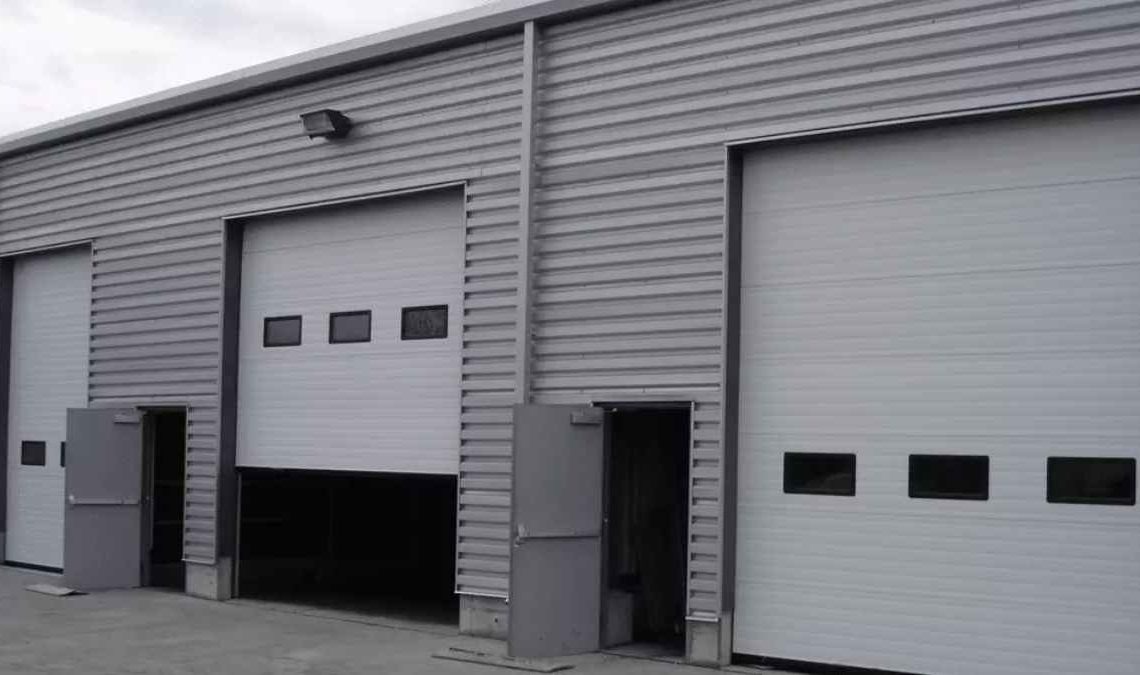 We maintain garage doors, commercial rolling gates, repairs, and installation services. We are experts on garage door installation and repair services, so businesses across America are more than welcome to appeal to us for such works. Our team of professionals is licensed and insured, and we provide a guarantee for all our work. Our garage door specialists can quickly and efficiently service any type of garage door with any type of garage door problems. Your satisfaction is our top priority with the best customer service in all states. STI Garage Door offers commercial repair of upper doors for businesses of all kinds. Our team can help with your commercial garage door repair wherever your business niche lies: in retail, hospitality, professional services, manufacturing or another sector.
Time is of the essence when something is wrong with your commercial garage door. A broken garage door can be a safe and financial risk to your business, halting operations and resulting in a loss of revenue. To help solve these problems, our company offers fast and reliable repair of commercial garage doors throughout America.
We only work with in-house technicians because we know that in-house technicians can offer exceptional service for your business. We also offer honest estimates and no hidden fees. We'll take care of your garage door so you can get back to work quickly.
What services can we offer?
As an independent company, we do our best to provide stellar service and use quality materials at every job because we understand that this is important to our clients. The goal of our commercial garage door repair company has always been to ensure that our prices are affordable without sacrificing quality. If your commercial property requires a new installation, it's vital to seek the help of a professional who uses reliable and reputable garage door brands. Using substandard materials can end up costing you more in the future. Contact our Broward County Garage Door Specialists for a high-quality repair or installation of industrial garage doors.
Garage door repair will save your gates from breakdowns, even if the damage seems unrepairable. For the company's specialists, the mechanism design or the damage complexity is not a big deal. On the account of our experience, we work at urgent repairs, making sure they are done quickly and at a high technical level.
We work with:
Double-leaf and single-leaf gates;
Sectional;
Rolled;
Lifting and turning
and other types of gates
How not to get to the repair of garage doors ahead of time?
You cannot foresee every possible damage, but it is possible to reduce the premature failure of the gate if you set such a goal at the order stage.
Clearly define the necessary properties of the gate (heat protection, intensity, aggressive environment, etc.);
Choose the manufacturer and type of gate (study the characteristics, reviews, videos);
Choose an installation company (ask for a manufacturer's recommendation, evaluate professional qualities by phone or call to the site, read reviews);
When using the gate, strictly adhere to the instruction manual, especially when it comes to maintenance.
Our commercial overhead doors are available in the following categories:
Different steel gauges, panel shapes, track designs, and fittings are used in sectional steel doors.
You can get rolled steel doors in galvanized steel, stainless steel, and aluminum. When head and side space are at a premium, these doors are the best option.
Thermacore Doors – This line of doors is renowned for its thermal performance, air permeability, and wind load resistance.
The highest fire safety standards are met by rolled steel doors known as fire doors.
Protective Grills are strong and simple to use, and you may choose from the necessary beautiful patterns and colors.
Counter doors are perfect for small holes and come in aluminum, steel, or stainless steel.
Doors made of aluminum glass are best for areas where there is a need for visual access, light penetration,such as fire stations, gyms, shopping, etc., emphasize aesthetics.
High-performance, long-lasting doors that have been modified to fulfill the strictest specifications are referred to as advanced service doors.
Our craftsmen will be with you every step of the way, from planning to selection to installing the desired business top door or requiring to repair commercial garage doors. Technical assistance is something we will give you without charge.
Typical works on repair of gates
Failure of the gate system, load-bearing mechanisms or automation in each individual case requires an individual approach and professional diagnostics. However, it is possible to distinguish a number of typical malfunctions that most often disable the equipment:
Garage door repairs are necessary if:
there was a misalignment of the gate bed;
the movement of the structure is difficult and is accompanied by extraneous sounds;
automatic gates close and then open independently;
there was a break in the cable or spring.
Repair of sliding gates will be required in the case when:
the equipment opens, but does not close, while the sound of clicking the relay is heard;
there is a characteristic hum of the drive when the gate moves;
the canvas does not close completely;
the automation has failed – the gate does not respond to the commands of the remote control.
The same reasons may indicate the need to repair swing gates.
Gates and locks in any garage are security elements, the proper operation of which is given the closest attention. Therefore, their sudden breakdown for the car owner is a serious nuisance that requires early elimination. Repair of garage doors with metal sashes, or automatic action is a procedure that must be performed by specialists with locksmith and welding equipment. Garage doors never break suddenly, except for an attempt to break them in a targeted manner. The appearance of a breakdown is always preceded by some kind of "signal" indicating a malfunction. It can be a creak or grinding of hinges, difficulties in opening and closing the flaps, twitching when closing the automatic gate. Such manifestations should immediately alert the owner of the building and make him turn to the masters in time.